Your front porch furniture ideas determine how this prime outdoor space gets put to use, so it's important to choose a setup that works for your lifestyle and your personal style.
While rocking chairs and porch swings are the quintessential furnishing choices for a wide, covered porch, they aren't the only options. Outdoor conversation sets are just right for entertaining neighbors on a summer evening, while a bistro set can take dinner for two outdoors.
However you plan to use your space, there's a front porch idea to suit it, so long as you have the right furniture setup.
Front porch furniture ideas that blend style and function
Why not sit and stay while? These front porch furniture ideas will encourage you to do just that. Perfect as outdoor living room ideas, they will make your space purposeful and beautiful. 
1. Create conversation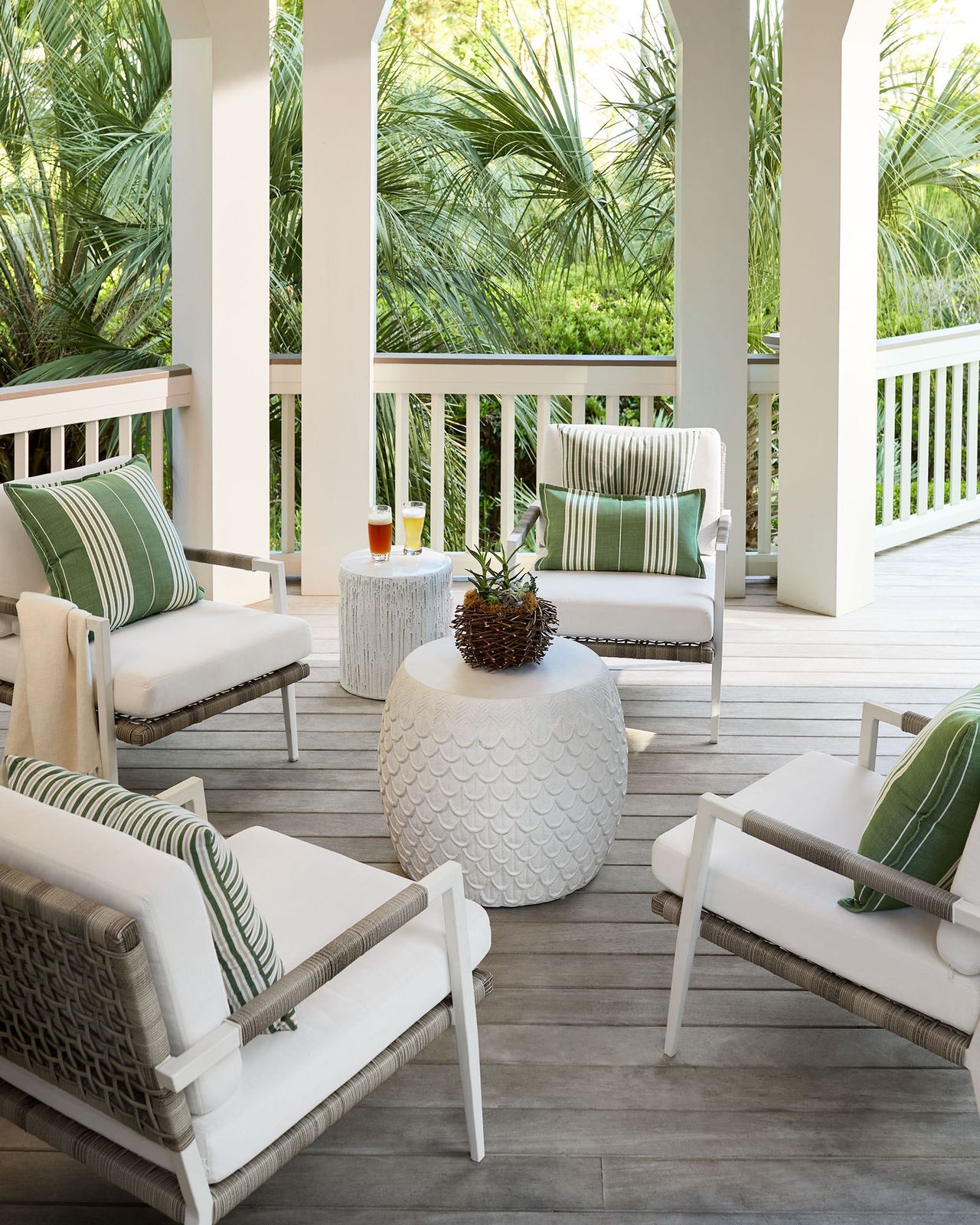 A ring of outdoor armchairs fosters conversation, turning the front porch into a go-to gathering spot for summer catch-ups with friends and neighbors.
'In the South front porches are more than a place to drop a package or be protected from the rain passing to the front door,' says Atlanta-based interior designer Tish Mills. 'The front porch is a gathering spot to watch neighbors go by or watch the children play in the front yard. I typically include some sort of seating whether it be a full seating arrangement or a bench.  It not only welcomes a visitor and sets the tone for the home, but also serves as a place to sit a while.'
2. Create symmetry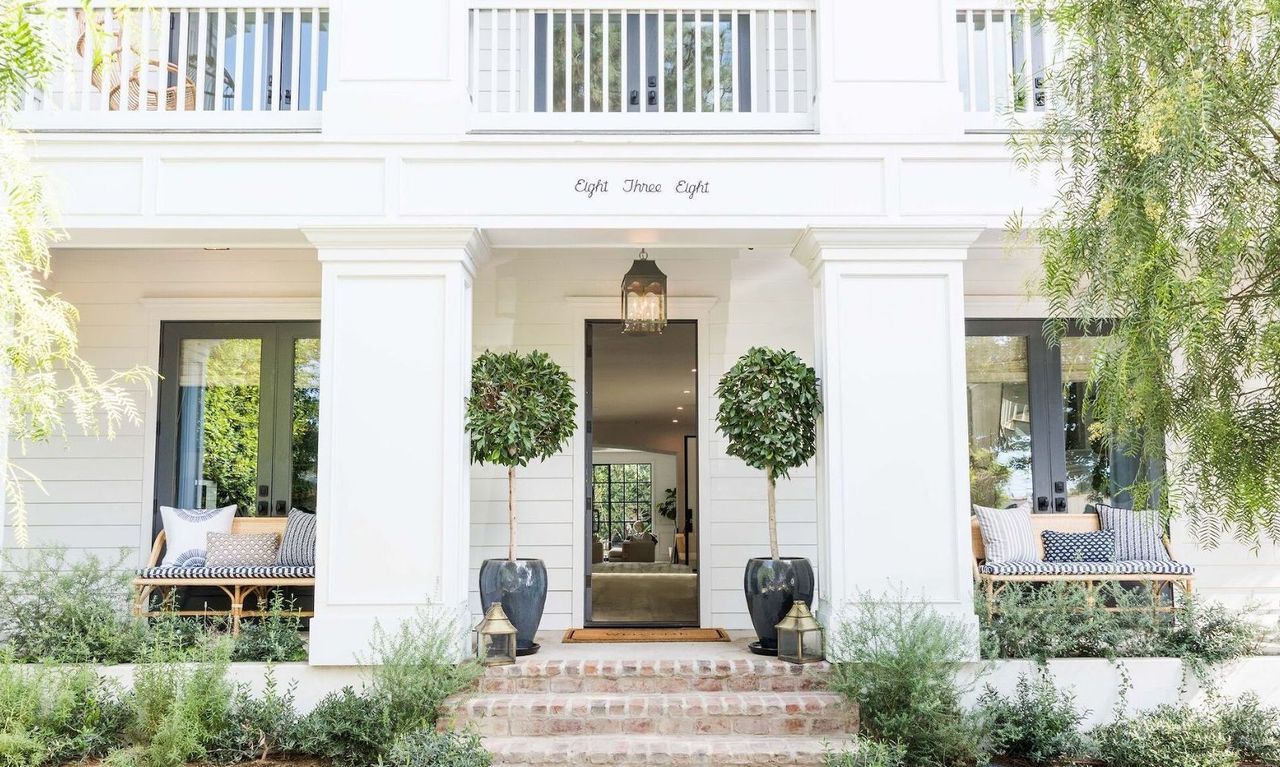 On a traditional home, create symmetry by choosing the same furniture setup for either side of your front door, which reflects the refined nature of classic architecture. 
At the former home of Gray Malin (opens in new tab), the artist chose a rattan Serena & Lily bench for each side of his front porch, adding a touch of variability with mismatched pillow sets.
3. Choose rocking chairs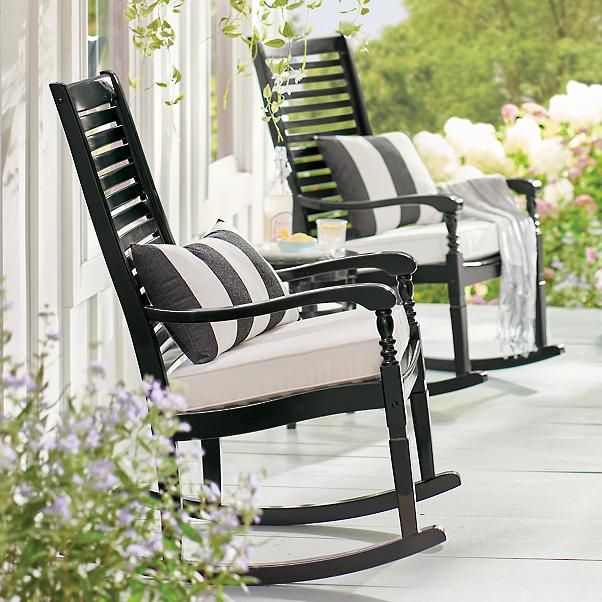 There's a reason for the term 'rocking chair porch.' A large front porch just begs for a row of rockers (for a small front porch idea, one or two chairs works just as well) that can be used to take in the neighborhood or admire the gardens on a summer evening. For added comfort and style, finish the look with cushions and lumbar pillows that complement the colors of your home. 
4. Incorporate wicker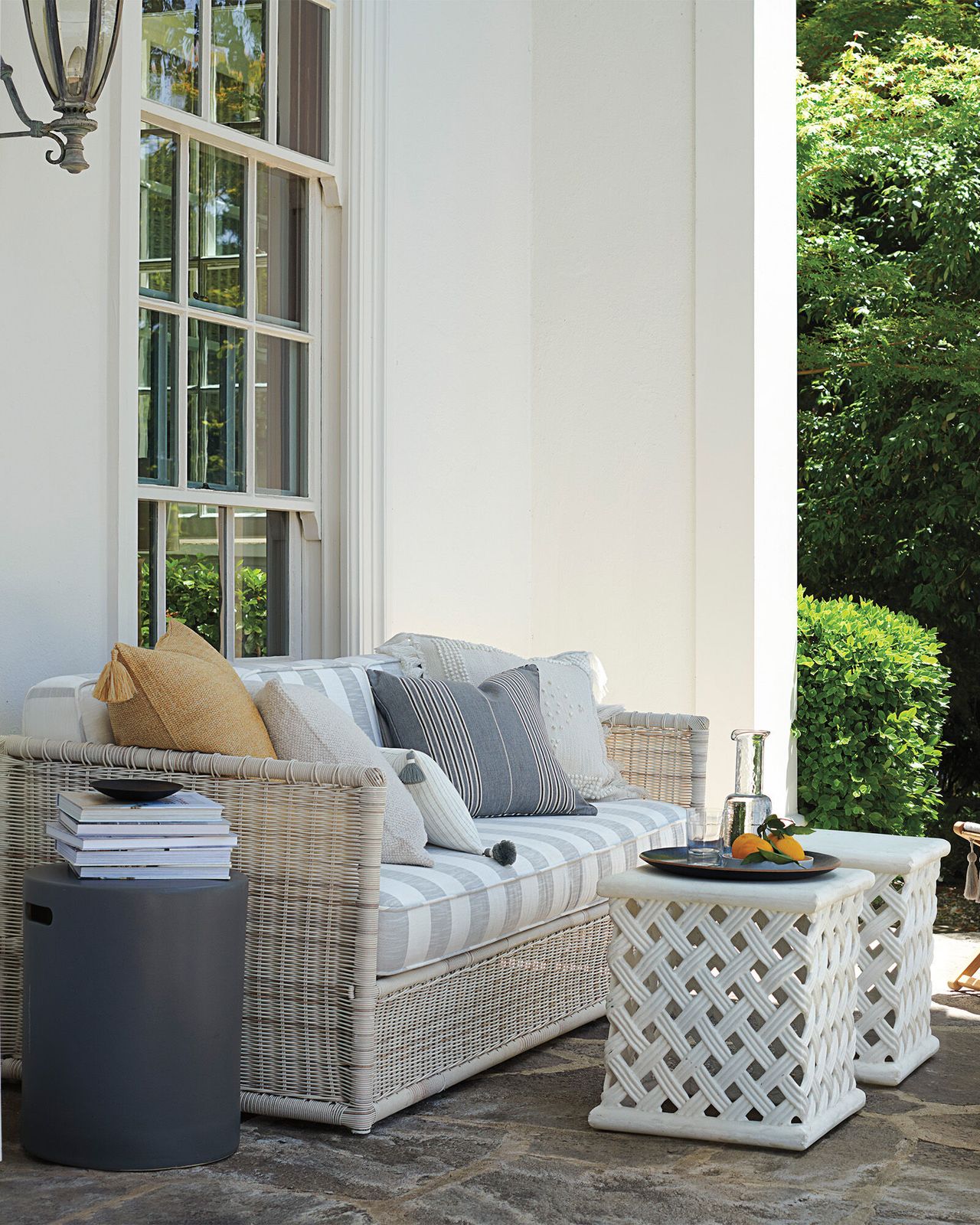 Wicker is the classic choice for outdoor furniture, and has been a front porch staple for decades. It's beautiful and durable, and suits a variety of porch styles. 
For a more modern look that doesn't feel like something passed on from your great Aunt, choose wicker pieces with clean lines and streamlined silhouettes, and pair them with contemporary accent furnishings.  
5. Hang a porch swing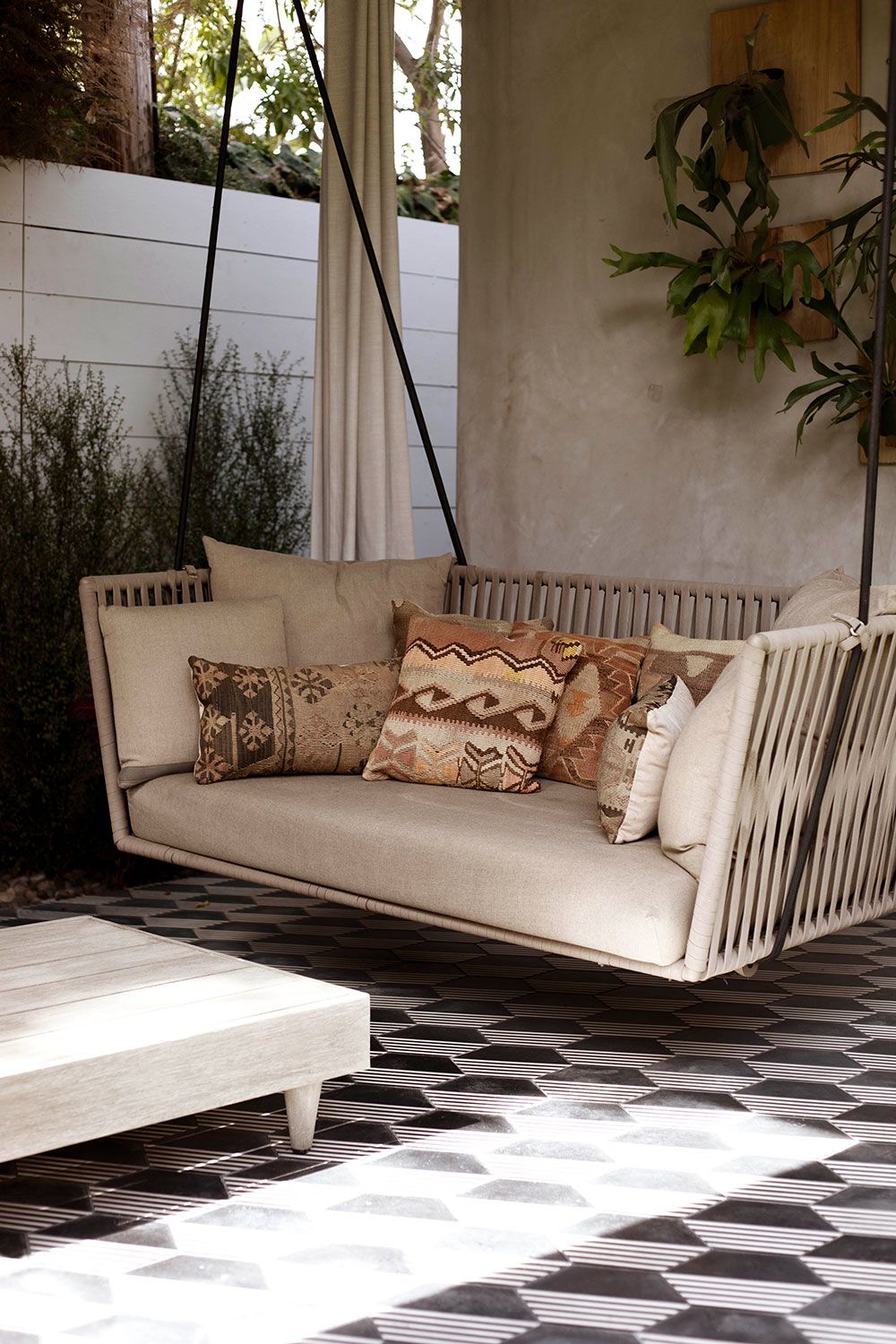 Besides rocking chairs, a porch swing is the quintessential choice for front-porch furniture. For a uniform look, choose a swing style that suits the architecture of your home. 
'My favorite layouts [for front porch furniture] would be a simple lounge area with either of the following pieces, Adirondack chairs, swinging chairs which hang from the home, or two chairs and one sofa with cushions,' says Kate Anne Gross, of Kate Anne Designs (opens in new tab), who used this rope-style swing for a client's California porch. 
6. Try bamboo furniture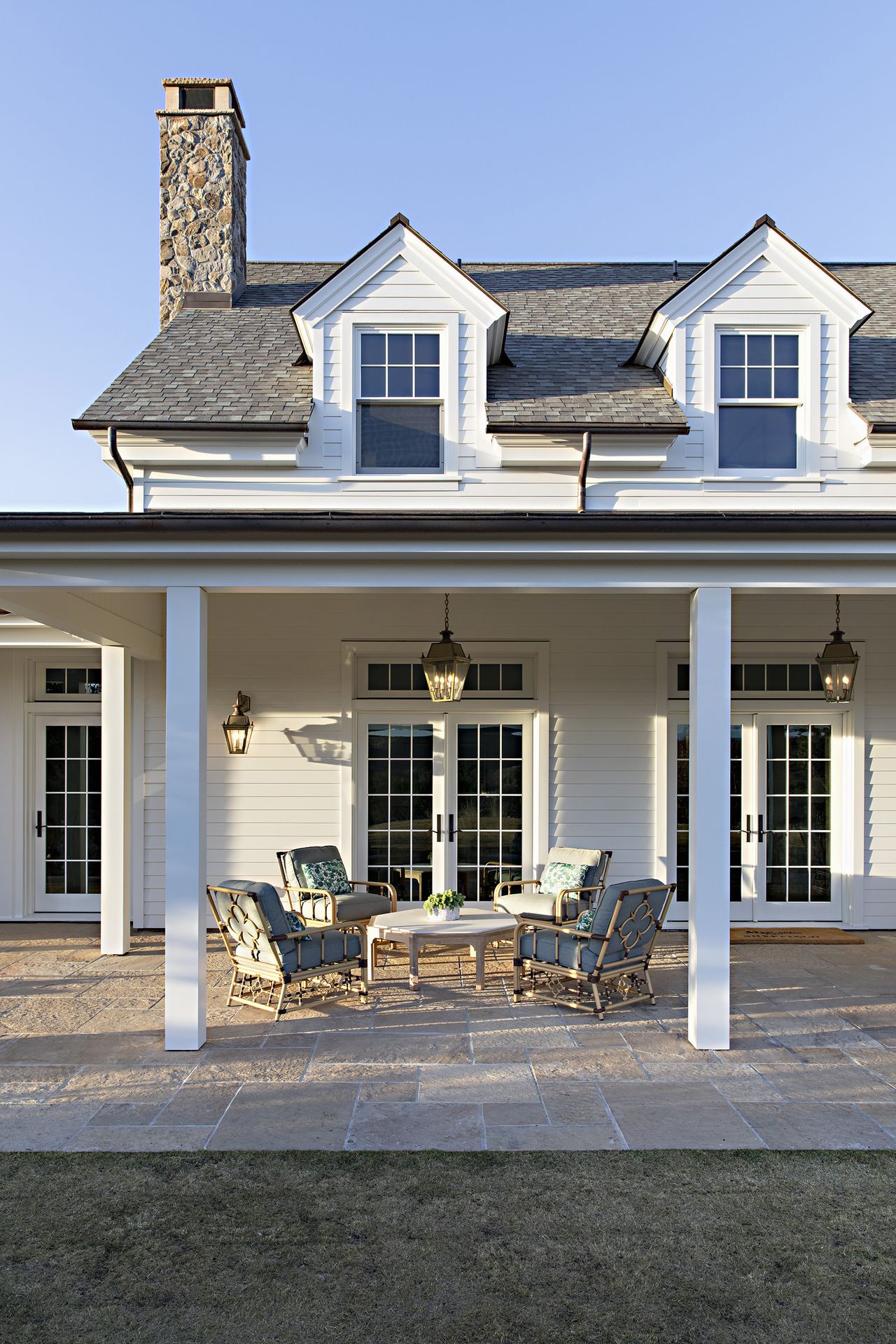 Bamboo furniture is another outdoor classic, with distinctly vintage vibes. It adds character and contrast to a new construction home, like the one by Evans Architects, above. At the same time, the look can easily complement a boho craftsman cottage, a classic Georgian home, and various porch paint ideas and colors by choosing cushion fabric or throw pillows that suit your home's style. 
7. Hang a daybed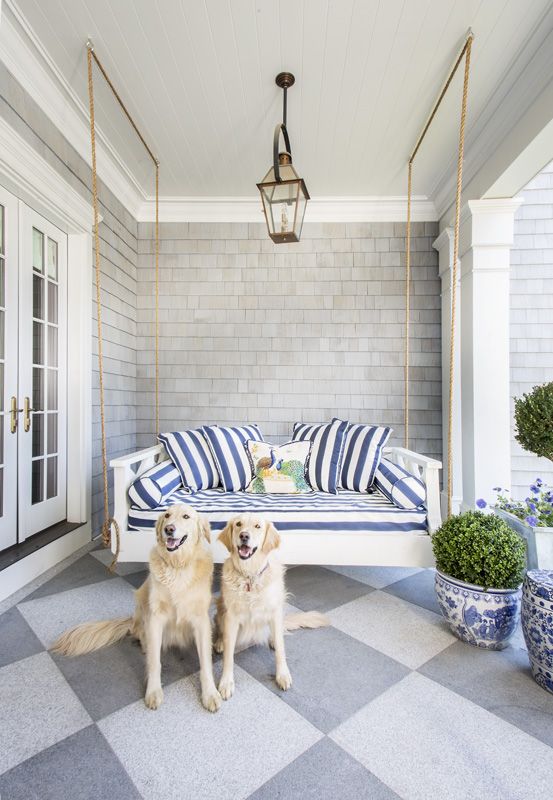 Give the classic porch swing an upgrade with a hanging daybed, instead. The larger space invites lounging (perfect for summer afternoon naps), and creates more room for decorative throw pillows and cushions, which helps turn the swing into a style feature, too. 
For a nautical look, skip the chains and hand the swing by sturdy rope, instead. 
8. Use Adirondack chairs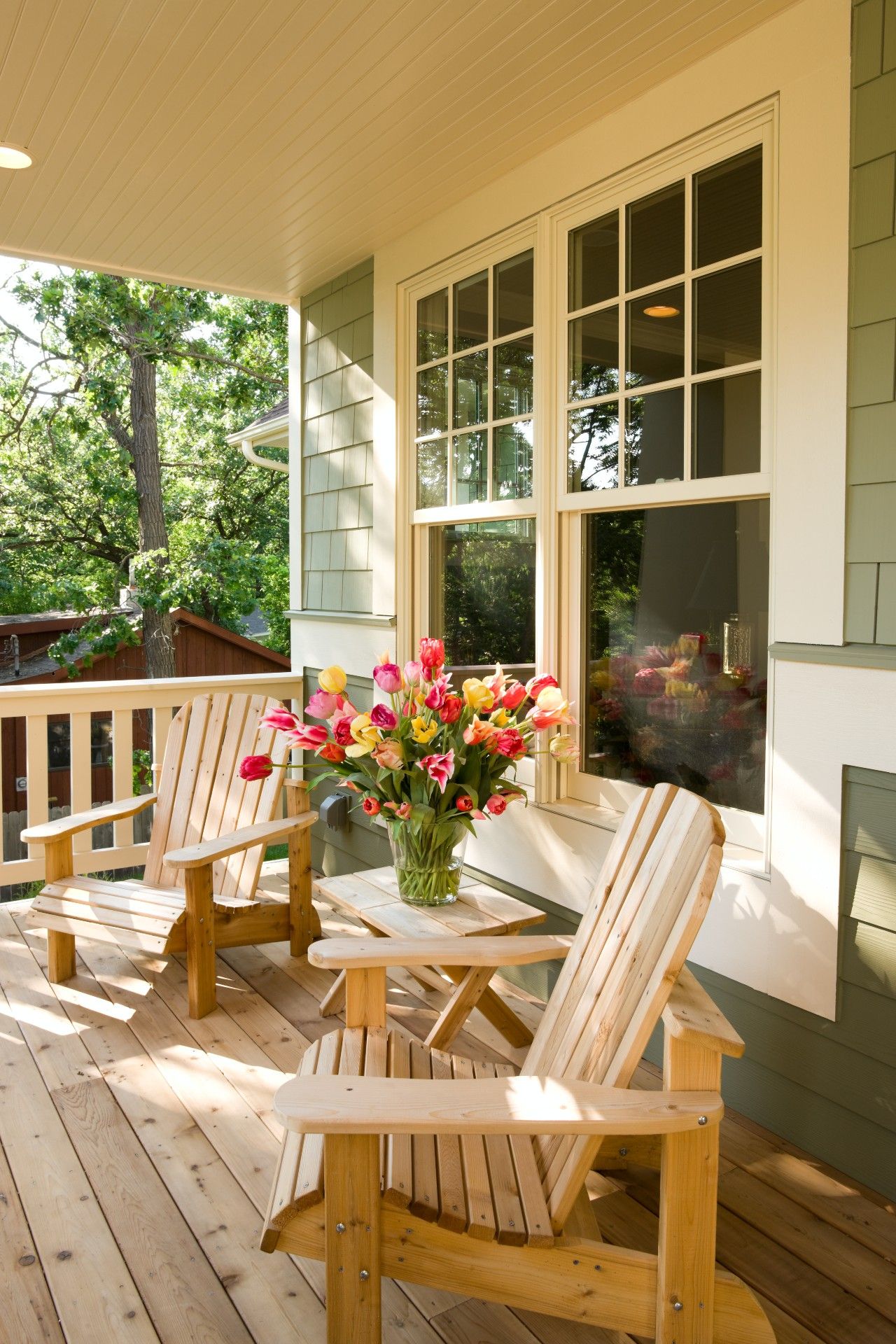 Want to enhance your beach house decor, cabin decor ideas or a rustic Craftsman house? Then you can't go wrong with Adirondack chairs. Adirondack chairs are comfortable, long-lasting, and low maintenance on a front porch. Plus, you can tailor the look to your home's exterior depending on the color of chair you choose. 
Unfished wood options work well for cabins and craftsmen, while white or blue suits coastal homes.
9. Create a dining area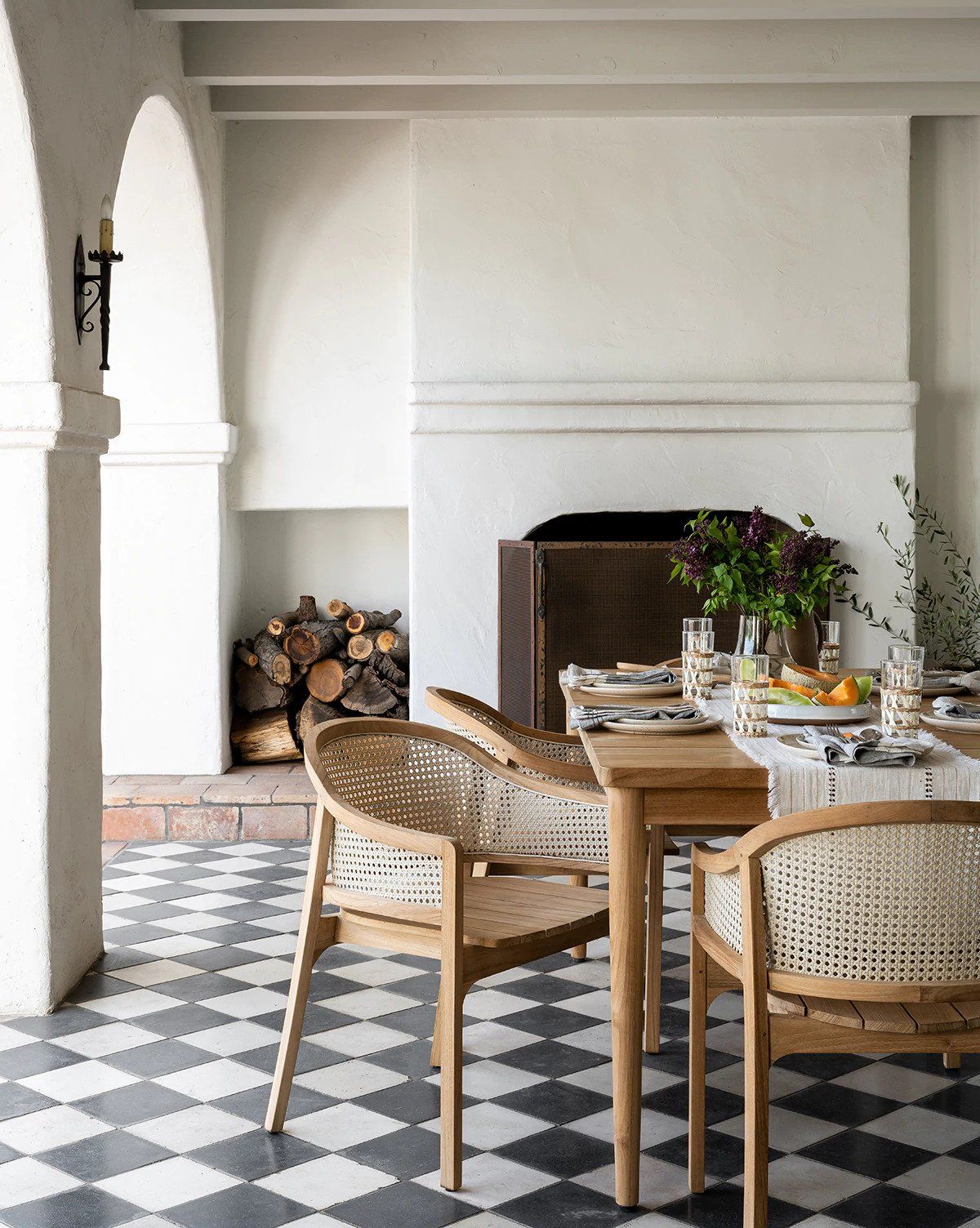 Traditionally, front porches are used for small conversation areas or rows of rocking chairs, but if your front porch is your best outdoor living area, there's no rule that says you can't use it as a dining space.
Looking for advice for outdoor dining ideas? For a larger area, opt for an all weather, full size dining table, and for smaller spaces, try a bistro table and a pair of coordinating chairs. 
10. Swing in style
A bench-style porch swing might be the classic choice, but a bamboo hanging chair offers just as much fun with an updated look. The popular porch chairs are guaranteed to the coveted seat when guests come over, so hang a few in a row to accommodate your crew, and create greater visual impact. 
What furniture looks good on a front porch?
There are a few key considerations that will help you choose the best looking furniture for your porch. 
For one, your front porch furniture should be proportionate to the scale of your front porch. So, if you're looking for small front porch ideas, you'll want furniture that is more compact, like a bistro set, or a rocking chair with a small side table.
If your porch is larger, then you'll want to go for pieces that fill out the space. A single bistro set would look insignificant in this case, but a row of three or four rocking chairs, a dining set, or a set of cushioned arm chairs placed in a ring will match the scale of your space.
Additionally, you'll want your porch furniture to go with the architecture of your home, as well as your front porch lighting ideas and porch railing ideas. If you live in a midcentury ranch, traditional Adirondack chairs will feel clunky, for example. Instead, you'd opt for an Acapulco-style chair, or an outdoor bench with tapered legs.
For a traditional home, classic wooden rocking chairs or a shaker-style porch swing would be a natural fit.
What color front porch furniture should I get? 
Aside from the size and style of your front porch furniture, you'll also want to consider color. The color of your porch furniture should complement the colors found on your home and in your yard. If you have a black front door and a white front porch you might choose black rocking chairs to give the porch some contrast while also playing up the color of the door.
On the other hand, if you know your front porch flower beds bloom in shades of purple and red, choose furniture and accent pieces that tie in these hues.
Another option? Choose colors from inside your home to bring out onto the front porch. 'I tend to accent the front porch with a main color from the home to give a glimpse of what's to come,' says Mills. 
https://www.homesandgardens.com/gardens/front-porch-furniture-ideas