A mom has shared her shock at discovering a "secret room" in the new house the family bought, which is linked to a passageway in her son's closet.
Cyndi Moncada recently snapped up some real estate, but after getting the keys she found something unexpected behind one of the doors.
Moncada, who has four boys, shared a clip to her TikTok account, @cyndi_moncada, as she gave viewers a tour.
The mom, thought to be based in Texas, said: "We just got the key safe to our house, and found this door that we've never opened, when we saw the house, walked the house, we never knew what was in here."
Explaining she thought it opened into an office space, she continued: "So we thought it led to my craft room, but when the kids opened it, it was stairs.
"So we walked up the stairs, and it's huge. Like literally you stand up straight in here. It's all boarded. We found another water heater, that we didn't know we had."
She films a pitched space with wires, ducting and even flooring. Moncada says: "This is all carpeted, plenty of storage, you walk through here, more stairs that lead up to another attic space, and there's a door.
"And you open this door, it leads to my son's bedroom, this is his closet. And this is his room. So he's super spooked out by his room because when we got to the house it was not locked, that door was not locked.
"He's like somebody could be living here and we wouldn't even know it. So now we've got to get a lock for the door so my son doesn't think someone's going to come to live in here and go into his bedroom."
The clip, posted earlier this month, was captioned: "Finding a secret room in our new house." Since being shared it's amassed nearly 2 million views, and can be seen here.
People were blown away by the space, as some theorized what it was used for by previous owners. Moncada confirmed they were the third owners in just a year.
Ffabela83 said: "That is escape room out of the house. Owners before could have been in some crazy s***."
Teddi-Jo Randolph thought: "Valid fear but as soon as it's secure that'd be the coolest thing ever."
Mike Kelly joked: "You have a whole house in the attic."
Hunter Sodalite reckoned: "He'll love that room in a few years when he's ready to sneak out at night."
Bennaj said: "Literally the start to every horror movie."
Racheal asked: "I'm confused did you not noticed the door in the closet when you bought the house?"
Teban joked: "Man I would of claimed that whole attic as part of my room."
Andreaflor758 said: "Seal up that door that goes to the closet. Hell no."
While Colacherri added: "Absolutely not.. I wouldn't have him sleep in there."
In response to numerous questions, she shared some follow-up videos explaining they have four water heaters in total, she just didn't realize this one was there.
And she also shared a walkthrough of the craft room she believed the door led to, revealing it had multiple doors—including one leading outside on a parallel wall.
While she confirmed inspectors did see the space as they looked around while the family weren't there, she explained the door was initially locked when they viewed the property.
When inspectors told the family how much attic storage they had, Moncada assumed they were referring to similar dimensions on the other side of the house, expecting them to be mirror images of each other.
She filmed the traditional set-up accessed via a closet on the opposite side of the house, calling it a "typical attic," which she measured as roughly 6 x 6 feet.
"We did have an inspection and the inspector mentioned our large attic but we thought he meant the areas we already saw," she said in a comment.
She also showed viewers up the ladder to the higher floor, she filmed the roof space, with beams, pipes and insulation, which Moncada theorized could be used as more storage.
"All the kids are warming up to it. Just very unusual from all our past attics, so initially creeped everyone out," she said in another comment.
While it's not clear exactly where the family is based, the average price for a house in the Lone Star state is $302,730, according to Zillow.
The site noted: "Texas home values have gone up 24.7% over the past year." Last April, homes cost on average $242,000, while in 2020 they were $219,000.
Newsweek reached out to Moncada for comment.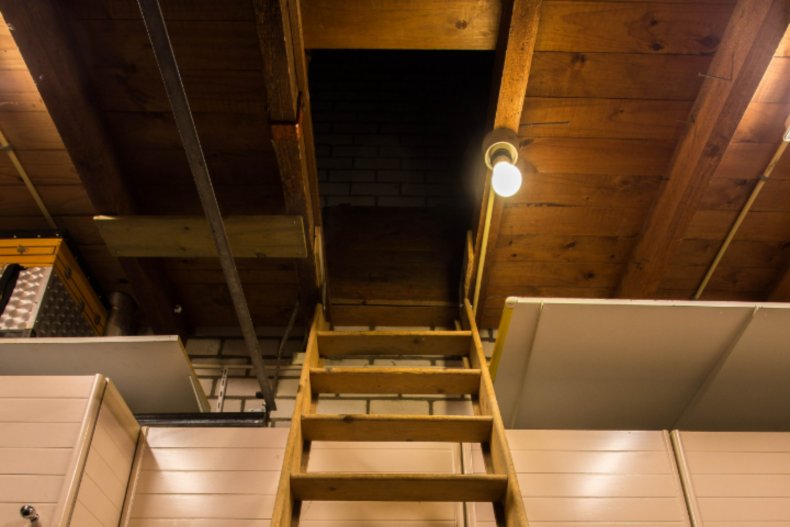 https://www.newsweek.com/mom-find-secret-room-new-house-passage-son-closet-1708544