Wooden wall treatments are king on HGTV—from shiplap and plank walls to beadboard and other paneling. You can't flip through most renovation shows without spying them.
And there's a new category you can add to the wall treatment pantheon: board and batten. It's a beautifully simple wall covering that's as perfect on a home's exterior as it is on the inside as an accent wall or to create visual interest.
If you're considering a new look in your home or your outside needs sprucing up, take a gander at board and batten. For some help with this process, here's the backstory behind the trendy siding, plus how it's made and where you can use it to its fullest effect.
What is board and batten?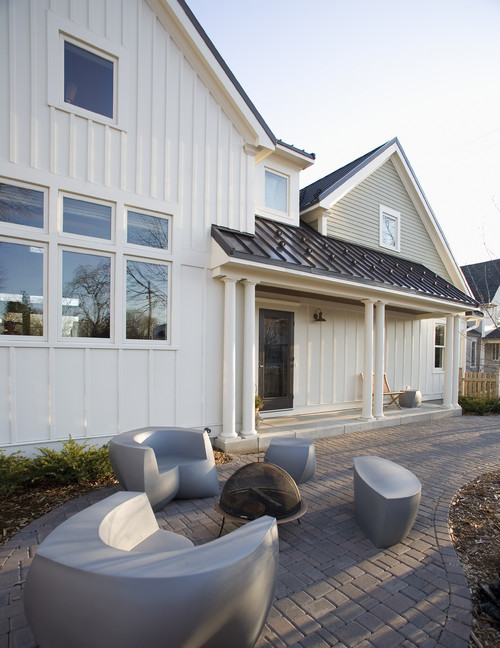 Photo by TreHus Architects+Interior Designers+Builders 
Board and batten is a two-piece exterior siding or interior cladding option for walls that may be constructed from wood, steel, fiber cement, or even durable (and low-maintenance) vinyl.
To get the look, wide boards (often about a foot in width) are placed either vertically or horizontally on the wall. Then narrow strips, or battens, are interspersed on top—usually vertically—to create a pattern and reinforce the wall, explains Dawn Wilson, global real estate adviser with Sotheby's International Realty in Mooresville, NC.
"Board and batten is often painted after installation, traditionally in shades of white when used as interior wood paneling. Though, lately dark moody colors are trending," she adds.
The history of board and batten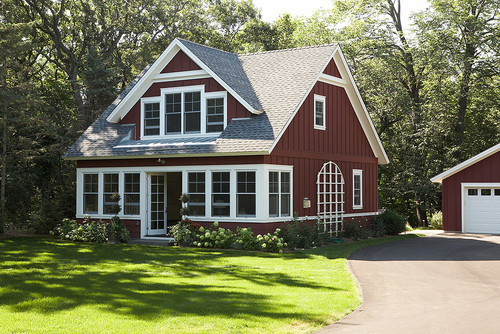 Photo by Erotas Custom Building 
Board and batten harkens back to simpler times when this easy-to-build, inexpensive treatment was used primarily on barns, sheds, and rural churches. In fact, board and batten is sometimes called barn siding and is a rustic yet stylish way to achieve a country vibe in a casual home.
Once widespread in Victorian homes as a way to add oomph to an otherwise low-key design, board and batten is back and riding a wave as a popular look that can be installed relatively easily and quickly.
Pamela O'Brien of Pamela Hope Designs says it's a style that's been embraced by the DIY set thanks to all the coverage it gets on renovation programs.
"It's a pretty achievable look great for cottages, cabins, and vacation rentals," she points out.
Where to use board and batten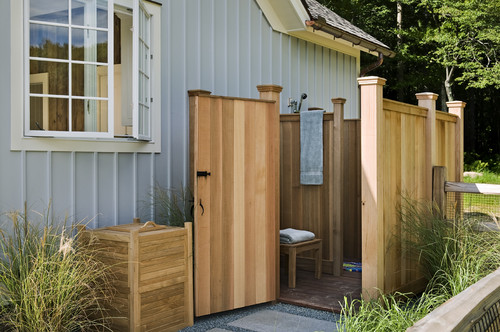 Board and batten as exterior siding is an excellent option. But your room's walls can also benefit from this treatment.
"Large spaces like entry hallways or open-plan living rooms can often feel cold if a cool color tone is used," says Cristina Miguelez, a home improvement expert at Fixr. "So some board and batten is a great way to add a warmer shade without committing to painting from floor to ceiling."
"And it's a great accent with other materials like painted brick, lap siding, and stone to enhance a home's character," adds Wilson, whose own house is covered in a mix of board and batten with cedar shake shingles to create a modern coastal aesthetic.
You can also apply board and batten to outside shutters as well. As for what home types pair best with the wood treatment, modern farmhouses and Craftsman style both work well.
Board and batten cost and installation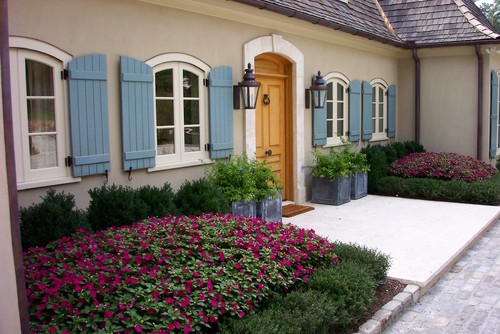 If you're a fan of board and batten, it compares well with other siding options in terms of price, notes Miguelez.
While flat panel is the cheapest choice at $9 to $12 per square foot to install, board and batten ranges on average from $9 to $23 per square foot or the same as beadboard and shiplap, she explains.
"But board and batten is less labor-intensive than shiplap, which has interlocking joints that make the process a bit more complicated," says Wilson.
Want to hire the job out? Miguelez says it'll cost about $90 per hour for a pro's time.
Will board and batten overtake shiplap?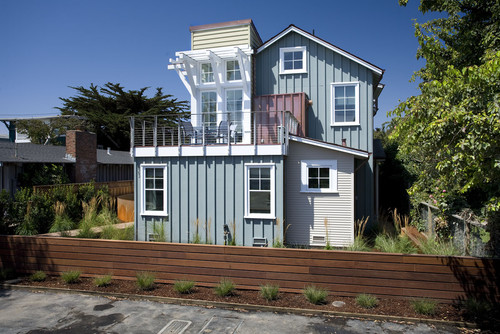 Photo by Noel Cross+Architects
If you're wondering whether board and batten is the new shiplap, home experts and design pros say it's probably not the case. Instead, board and batten "complements shiplap, which is so classic and versatile for farmhouse styles and transitional and coastal homes and anything in between," says Wilson.
Still, board and batten is solidly in the siding race.
"Homeowners are constantly looking for new ways to improve their home's interior by giving it a design lift," adds Miguelez.
She adds that a feature wall with board and batten might be just the ticket behind the bed or around a living room fireplace when seeking an affordable way to add color and texture.
What Is Board and Batten? How This Rustic Chic Look Might Work in Your Home